PowerServer Web
Deploy Your PowerBuilder Desktop Apps
to the Cloud, Rapidly.
PowerServer Web automatically deploys PowerBuilder desktop apps as native .NET or Java Web apps. Existing PowerBuilder skills and source code can be leveraged. There is no faster, scalable approach to Web-enable mission-critical systems built with PowerBuilder
Why choose PowerServer Web?
Lowest Cost and Risk
PowerServer Web automatically converts most existing PowerBuilder source code, including complex DataWindows and frameworks. Subsequent maintenance is performed in the PowerBuilder IDE, keeping the existing development team highly productive and minimizing disruptions. A typical project can be completed in just months or even weeks rather than years!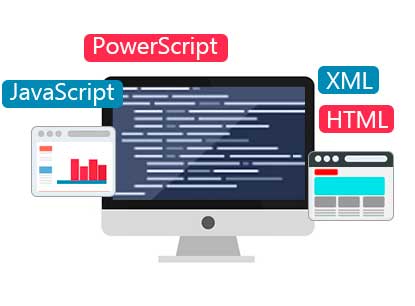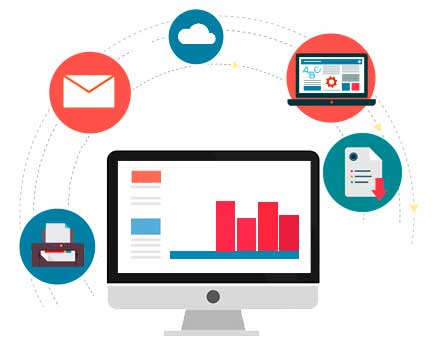 Powerful Desktop Functionality
Experience powerful UI and features typical of sophisticated desktop apps. Now you no longer need to choose accessibility over functionality. In fact, you can even seamlessly integrate with other Windows apps and OLEs/OCXs/DLLs, access Windows APIs, and utilize peripheral devices. The rich UI is not only more intuitive, but also eliminates the need for End User retraining.
Native .NET and Java Technologies
PowerServer Web apps utilize native .NET and Java EE for the middle tier. As such, they deploy to the Microsoft IIS or leading Java EE application servers, benefiting from the server-side scalability and security these servers provide. Your PowerBuilder projects can coexist with .NET or Java projects, readily integrating with server-side .NET assemblies or Java EE components. And you can move towards an API-enabled architecture step-by-step as it makes business sense.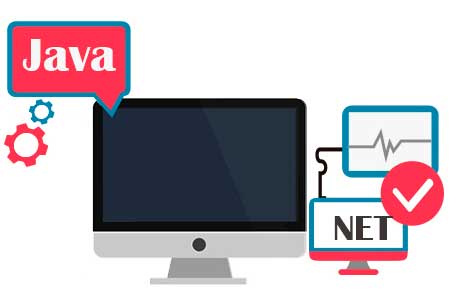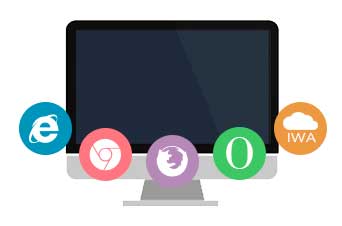 Flexible Deployment Options
Deploy your Web apps to either Windows or UNIX servers, and virtualize or cloudify with leading virtualization or cloud solution providers. End Users access your Web apps via leading Web browsers on the Windows OS or as Installable Web Apps (IWAs). IWAs stay resident on the desktop and run without a Web browser, streamlining accessibility.
What's New in PowerServer 2020
New objects introduced in PowerBuilder 2019 are now available for PowerServer users in their Web projects, simplifying and further securing the consumption of REST Web APIs.
TokenRequest and TokenResponse objects
OAuthClient, OAuthRequest, and ResourceResponse objects (for OAuth 2.0)
CompressorObject and ExtractorObject
CrypterObject and CoderObject (except for Base32Decode, Base32Encode, Base64UrlDecode, and Base64UrlEncode functions)
New functions introduced in PowerBuilder 2019 are also available for PowerServer users in their Web projects, simplifying and further securing the consumption of REST Web APIs.
RESTClient Object –
Submit, SendDeleteRequest, SendGetRequest, SendPatchRequest, SendPostRequest, SendPutRequest, GetJWTToken, SetJWTToken, GetOAuthToken, SetOAuthToken, and RetrieveOne functions.
JSONParser Object –
the ContainsKey function and ReturnsNullWhenError.
DataWindow, DataWindowChild, and DataStore Objects –
ExportJson, ExportRowAsJson, ImportJson, ImportJsonByKey, and ImportRowFromJson functions.
PowerServer 2020 is compatible with Windows Server 2019 and SQL Server 2019.
What Developers Say
"PowerServer enabled us to offer our customers a web-based workforce optimization product deployed to the Microsoft Azure Cloud."
Tony Orsini, Senior Director
PowerServer Web App Architecture
PowerServer Web deploys your PowerBuilder apps to a standard n-tier Web architecture .NET or Java EE application servers. The presentation tier, business tier, and data tier are logically separated. The three tiers can run on the same physical server or be separated onto multiple servers and clustered. You can take advantage of numerous security mechanisms, including SSL/HTTPS, VPN, Firewall and Web server security. No matter how small or large your organization is, you will realize the benefits of greater availability, scalability, security, and reliability.
FAQs
No, PowerServer Web does not support Macintosh; however, if it is important to get into the Apple ecosystem you can consider deploying your PowerBuilder projects to iOS by utilizing PowerServer Mobile.
You may use Chrome, FireFox, Internet Explorer Web browsers on Windows 7 or newer and Edge on Windows 10.
No, PowerServer Web apps are intended to faithfully replicate Windows desktop app functionality and as such must be deployed to the Windows OS. If you wish to extend your application's functionality to mobile devices and review all kinds of reports, you can try PowerServer mobile deployment. PowerServer mobile is designed for home-hosted small size apps.
Yes and no, depending on if you access your app via a Web browser or as an Installable Web App (IWA). A Web browser plug-in is required if accessing your app via Web browsers. Installable Web Apps do not utilize a Web browser and as such do not require any Web browser plugins.
The deployment of your PowerServer Web app should be more straightforward and reliable as you eliminate a key environment dependency – proper configuration of the Web browser. Also IWAs are easier to launch since they are resident on the user's machine and have shortcuts. In terms of performance, response times are similar but IWAs will consume less client-side memory.
PowerServer Web converts client-side PowerScript to JavaScript also running at the client-side. Server-side PowerScript code can be deployed as .NET assemblies by PowerServer toolkit. If you want to move your code to C#, you can try PowerScript Migrator.
The development and maintenance is performed in the PowerBuilder IDE, leveraging existing PowerBuilder skills. However, integrating with other .NET or Java EE apps and Web services will require some knowledge of these technologies.
PowerServer Web is truly utilizing an n-tier architecture and Web standards, such as HTTP/S, .NET or Java EE application server, stateless server objects and database connection pooling, and so on. As such, you can expect for greater scalability, readily integrate with other .NET or Java EE Web apps as well as Web services, and free yourself from the typical limitations and headaches of terminal service technologies.
Yes, and much faster than rewriting your existing apps from the ground up. PowerServer Web has been certified with Amazon AWS, Microsoft Azure, VMWare, and RackSpace.
Yes, the Web servers hosting your PowerServer Web apps can be clustered and load-balanced if you use Microsoft IIS or Apache Web server; however, this feature will require you purchase the Enterprise Edition of PowerServer Web.
PowerServer Web supports deploying to .NET with Microsoft IIS or Java EE with Oracle WebLogic, IBM WebSphere, or WildFly/JBoss. Please refer to the appropriate PowerServer Installation Guide for detailed software environment requirements of the desktop, middleware, and database.
It is very difficult to generalize this as a number of variables can affect the Web deployment effort. Generally, the web deployment project consists of remediating unsupported PowerBuilder features, optimizing data access logic for Internet connectivity, and thoroughly testing your project. Many customers have completed their projects in several months and some even in as little as several weeks.
Most PowerBuilder features are supported, including complex DataWindows and frameworks (such as PFC). Please refer to the Support Features Guide for a complete list of all supported and unsupported PowerBuilder features.